Insructions - Document storage:
Requirement:
Document storage
is an optional additional function in CCalendar. It is subject to charge and has to be activated by your CCalendar administrator.
Enter / manage documents:
With the menu item "Documents" you get to the documents management:
(Guests can open the documents overview, but only
public
documents are shown and the have no possibility of editing.)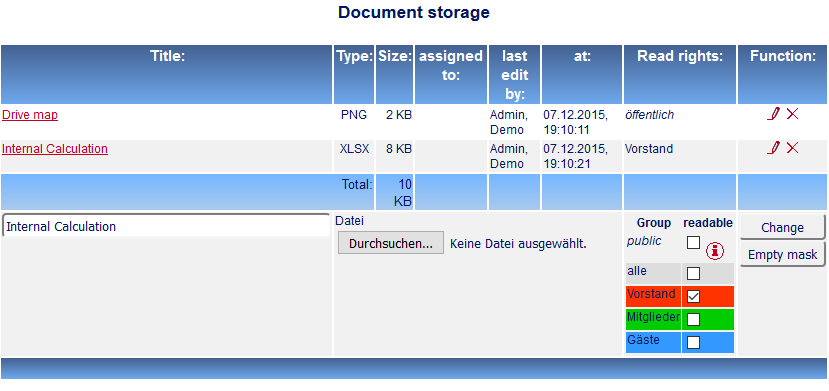 Here users and administrators can upload / edit / delete a limitless number of documents until the storage limit of currently MB per organisation is reached.
A "document" can be an arbitrary file, no matter if text, picture, sound, etc.
Rights:
For every document you have reading AND writing rights, you can assign arbitrary reading and writing rights in the rights field for appointment groups.
All participants of the chosen appointment group get reading rights for the particular document.
If the field "all" is selected, all internal users (users with a login to your organisation calendar) get the possibility to read the document, independent of the other settings of the particular appointment group.
If the field "public" is selected, the document will be readable publically. That means the documents will also be linked and readable in the e-mail delivery to people, that may not have access to the CCalendar system. Furthermore the documents will be linked from your homepage, in case the homepage module is in utilisation.
Editing:
You can arbitrarily edit the document title, reading rights or the file itself at any time.
Eventual links to appointments will remain, of course.
If a document is deleted, all related links to appointments will be void. The appointments themselves, of course remain.
Links to appointments:
If you like to link an appointment with an existing document, open the appointment editor of the particular appointment and click on the button "Edit document assignment":

Rights:
In case reading rights of a document are more restricted than those of the appointment, another user will only get those documents displayed to the appointment, that they have reading rights for!
It is the same case with the status internal / public. If an appointment is flagged as public - though the contained documents are not, hence they will not be publicated external.
As a basic principle: Only when there is a right existent, an appointment or document will be shown.
If an appointment already has links to documents, which you do not have reading right for, the possibility to edit the linked documents will not be possible for you and thus be inactive.
View of an appointment with linked documents: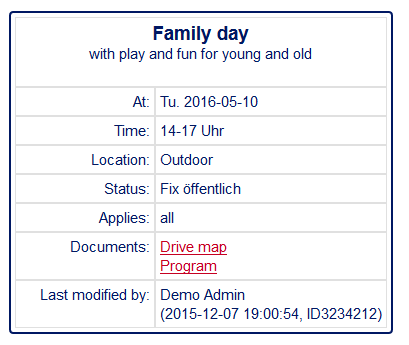 Restrictions / Compatibility:
In connection with Outlook synchronisation

C

KSync:
Documents and appointment links with documents are excluded from the synchronisation. (Yet links between appointments and documents remain when appointments are edited.)
In connection with the data-gateway module:
Documents and appointment links with documents are excluded rom data import and export.