Instructions - Initial setup of an organisation:
0. System requirements:
To use CCalendar you need a current web browser with following settings:
activated JavaScript
activated PopUp windows
activated Cookies (at least temporary, at least for ckalender.de / ckalender.org / ccalendar.org)
Site refreshes at every access (Cache deactivated)
1. Organisation account setup:
For first time use of CCalendar go to
free test account
" in the menu and create your own

Organisation Account
.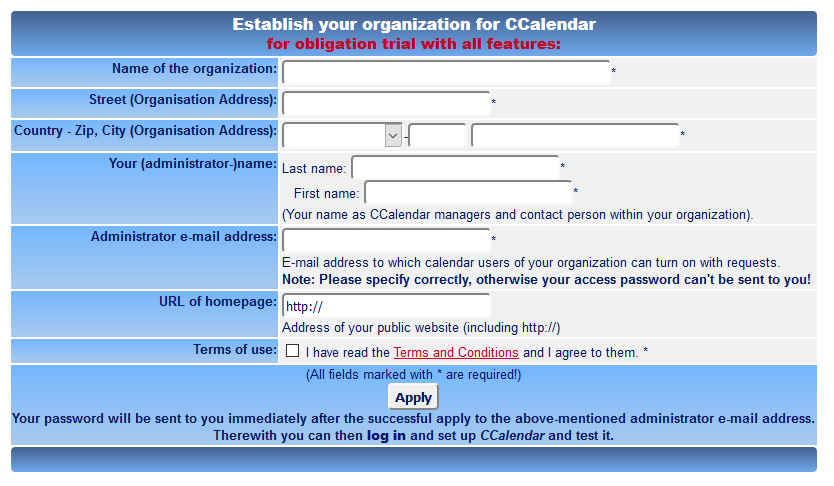 Therefore fill in the form with the details of your organisation as well as your personal details.
Please make sure to enter the "Administrator E-Mail Address" absolutely correct
. This is the e-mail address where you receive your administrator password immediately after sending the filled in form!
(In case the e-mail address contains mistakes you cannot receive your administrator pasword and will not have the chance to continue to set up and use CCalendar anymore!)
Shortly after sending your form you should receive your administrator password on the e-mail address provided in the field "Administrator E-Mail Address". Therefor please check your inbox.
(You can change all settings made here at a later stage in the Admin-Menu "Organisation" and make further organisation specific adjustments.)
2. First time login as administrator:
With the "Administrator Account" and "Password" that you received via e-mail you can log into CCalendar in the Menu "To Calendar" for the first time with all configuration rights.