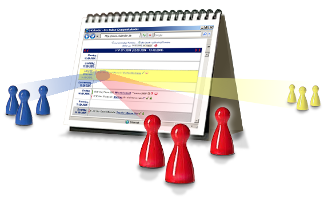 Use and target group:

C

Calendar is a powerful tool for location-independent calendar-management via internet.

CCalendar especially suitable:

for organisations / companies / groups / communities / clubs and even for individuals which have to make an appointment with others.
if you want to make appointments for individuals and certain groups of people (maybe even in seperated locations) individually acessible
to remind different groups of people of appointments automatically, efficient and safe via e-mail
to be up-to-date about appointments constantly, without having to take care by yourself
to display selected appointments up-to-date and fully automatic - completely without maintenance - on your existing homepage

Advantages:

Appointments and changes are communicated fully automatic to all relevant persons
Fully automatic publication of seleted appointments on your homepage - without maintenance!
Completely automatice distribution of daily, weekly and monthly appointment lists, as well as individual appointments
Prevention of conflicts already during scheduling
Reduction of exhausting appointment arranging in meetings
Prevention of forgetting appointments!
(The latest appointments for the day are sent via email every morning at 1:00 am to each user individually.
Thus they are available daily at start of work.)

What user means:

"I have been looking since a longer time for a suitable calendar system. But this is far the best for our needs!!"

mehr »
Diese Website verwendet technisch notwendige Cookies.
Mehr erfahren